Summer 2014 has been a very busy time for me, what with all the affairs of Plushiland to look after. I thought it would be nice if I showed you photos of my treasure, Diamonds and cold hard cash. I think it is really important to have portable property. To follow Mr Charles Dickens in Great Expectations. I now have a beautiful case, not box, to keep all my treasure in when I travel.
Diamonds and Cash
Of course when I get more Diamonds I will have to get a bigger suitcase.
On a educational note, it turns out that them Dinosaurs were fluffy too.
Some of them had feathers.
It is far too hot in Plushiland at the moment, and I really hope that the heat wave will end soon. Us Plushis do not like the heat at all. Spare a thought for
Arturo, the poor Polar bear stuck in Argentina, in 40 degree Celsius (
Like a million Degrees Fahrenheit, I believe)
because the BAD MAN won't send him to a ZOO in Canada.
Send Arturo to Canada, you BAD MAN!
One more distressing picture to go, then my work is done. No doubt you will all have heard about the plane shot down over the Ukraine. Enough have been said about it already. I want to leave you with a terrible image from the Guardian Newspaper. You can read the article entitled :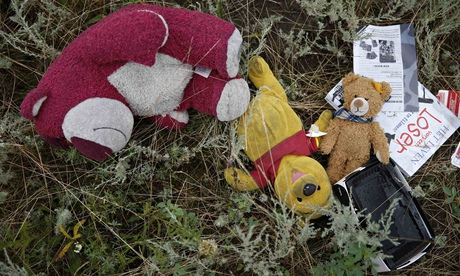 On this note I will leave you, to ponder what it means to be Human and Alive. Hopefully, next time I will have happier news to report?! But YOU HUMANS are in charge, so it seems doubtful.
Ratti Von Plush,
Great Liberal
PLUSHI Resources Director,
Keeper of the FLYFF,
DIAMOND Collector,
King of Salford,
Lord Protector of Plushiland,
Pontifex Maximus of the Great Plushi in the Sky,
Lord President of the Privy Council of Plushiland,
Grand Vizier (AY AY AY),
Office of the King,
Plushi Towers,
Plushiland